October 2018
On Monday 23rd September, Dr. Sara O'Byrne from The Treehouse Practice visited the school to speak to staff and parents about building resilience and managing anxiety. The talk was well attended and Dr O'Byrne shared a lot of interesting ideas and advice. Her presentation can be seen below:
Building resilience - Talk 24.09.18

February 2018
Safer Internet Day 2018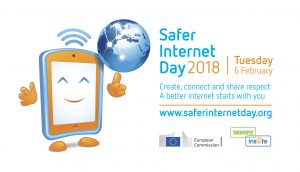 Safer Internet Day 2018 falls on Tuesday 6th February. Internet Safety is a very topical issue and many radio and television programmes such as The Late Late Show have recently debated the issue at length.
At St. Anne's we are working to ensure that children have a good understanding of the importance of internet safety and they are currently involved in creating safer internet posters, some of which will be put up around the school.
There are a lot of fantastic resources available to parents and children in relation to internet safety. Many can be found at www.saferinternetday.ie
FiveThings

"Let's talk about Parenting" series of talks for Spring 2018
The "Let's talk about Parenting" programme is a series of talks organised by Kildare Library Service to help support the parents in the Kildare area. The programme is broken into four groups Baby/Toddler, Children, Teenagers and Parents to cater for every family type and need. These talks are spread throughout the seven main library branches within Kildare library service.
Attendance at all of the events is free of charge and open to everyone but advance booking is required. Please contact the library where the talk is happening to book your place.
See below for talks in Spring 2018
Bringing up Responsible well-behaved and happy children
Presented by John Sharry
Naas Library: Thursday 08th February 7 pm
In this talk, John Sharry describes a balanced approach to parenting that allows you both to teach your children responsibility while also having an open and enjoyable relationship with them. In particular you will learn a step by step positive approach to solving common childhood problems that can be applied to many challenges of being an effective parent.
Communication in the Pre-school years
Presented by Catherine Sheahan
Maynooth Library: Tuesday 20th February 7pm
This topic will include early development in the foundations of language including play, attention, eye contact, joint interactions. An outline will be given of what to expect in communication development from first words to phrases to when children use sentences. Guidance in early identification of children who present with speech and communication difficulties will be given as well as strategies to improve speech and communication skills in preschool, children.
Helping your child build Resilence and Skills to cope with Life's challenges
Presented by HSE Primary Care Clinical Psychology Service
Kildare Library: Wednesday 21st February 10.30pm
Newbridge Library: Tuesday 3rd April 7pm
This talk explores the support and experiences our children need to develop resilience or mental strength. It will help parents develop their children's ability to thrive despite life's challenges e.g. growing up, bullying or living with difficult circumstances; and to bounce back from adversity.
Young People and Substance Misuse
Presented by Padraig O'Donovan
Celbridge Library: Thursday 22nd February 7-9pm
In this 2 hour workshop, Parents will gain an insight into what substances are out there for young people including cannabis. Padraig will focus on some practical skills that parents can do to reduce the possibility of their young people engaging in substance misuse. Parents will also consider some signs and symptoms of substance misuse along with where to access support and further information.
Helping Children who worry too much
Presented by HSE Primary Care Clinical Psychology Service
Naas Library: Tuesday 27th February 7pm
Newbridge Library: Friday 9th March 10.30am
This talk explores many of the common factors which can cause and increase worries for children. It will include strategies to help children to manage and overcome their worries so that the worries become less powerful in their day to day lives.
The importance of play to child development and their right to play
Presented by Dr. Carol Barron
Newbridge Library: Tuesday 6th March 7 pm
Carol will speak about the importance of play to child development and children and young people's right to play enshrined in UNCRC. Carol will also speak about her work with Kildare County Council and 'Play concerns' as viewed by Kildare children and young people.
Playgrounds / Recreational Spaces in the Community
Presented by Simon Wallace
Celbridge Library: Thursday 8th March 7pm
Newbridge Library: Tuesday 17th April 7pm
How to influence the development of play and recreation amenities in your community – including an outline of the systems / processes involved in Kildare County Council planning for towns, estates playgrounds and public space and how parents can input into these. Simon will talk about the planning process for playgrounds, design considerations, where we have playgrounds located and the new play policy for the county. An interesting talk for anyone wondering how to inform themselves to actively get involved or just for general information. Followed by a Question & Answer Session.
Helping support your child's attention and concentration
Presented by HSE Primary Care Clinical Psychology Service
Newbridge Library: Tuesday 13th March 7pm
Naas Library Tuesday: 17th April 10.30 am
Athy Library Thursday: 26th April 7pm
Many children struggle to concentrate and attend to tasks and demands; in school, pre-school, or at home. These difficulties staying focused can be related to lots of different factors and it can be hard as parents to feel confident to know what's going on and how they can best help. This talk is aimed at helping parents to firstly begin to understand what might be underlying their own child's difficulties with concentration and sustaining their attention on certain tasks and activities. It will also suggest multiple strategies that they can use to help their child to manage these challenges. The talk will also give some information on local services and community supports should parents need access to these for their child.
Dads and their young people
Presented by Padraig O'Donovan
Leixlip Library: Tuesday 20th March 7-9 pm
In this 2 hour workshop, Padraig focuses on the role of dads in parenting their young people. It will consider the importance of dads participating in all aspects of home-life and how this influences their young people. Dads will also gain an insight into the value and positive impact of spending one-one time with their young people on a regular basis.
First Aid for Parents
Presented by Siobhan Butler
Newbridge Library: Wednesday 21st March 10.30 pm
Maynooth Library: Tuesday 17th April 7pm
This informative and interactive course will use lots of visual aids in the presentation and there is plenty of opportunity for the participants to ask questions.
Topics covered will include:
• Calling the emergency services •Meningitus
• The First Aid Kit • Burns
• Choking • Temperatures / Seizures
Family Finance Advice with MABS
Presented by MABS
Naas Library: Thursday 22nd March 7 pm
Leixlip Library: Tuesday 10th April 7pm
These talks will give an overview of the service provided by the Money Advice and Budgeting Service and for a family group would look a basic budget showing how to budget for weekly monthly yearly bills and offer some advice tips around the area of debt management.
Exam Stress – tips for supporting your teenager at this challenging time
Presented by Deirdre O'Shea
Kildare Library: Thursday 5th April 7pm
Facing exams can lead to considerable stress for teenagers and their families. There can be an increase in anxiety and worry which can affect their overall wellbeing, especially their confidence as well as their concentration and performance in exams. This talk will provide tips for helping those facing exams with particular focus on:
• Strategies for coping with stress and worry in the run up to exams
• Tips to make study time more effective
• Coping with the exam itself.
Healthy Food Made Easy for Parents
Presented by The Health Promotion Unit
Naas Library: 11th April 10am- 12:30 pm
This free 6 week course is aimed at supporting people who are interested in healthier eating, at a reasonable cost, for their families. It aims to improve attendees nutritional knowledge and help them put it into practice in everyday life. The course is practical but fun and everyone can participate. There will be 6 sessions including cooking and tasting and a visit from the local community Dietitian to answer any questions you might have. Pick up some tips and ideas to make your families lunchtimes and dinners more healthy, tasty and varied. All utensils, food etc provided.
Finding Balance: Self Care Workshop for Parents
Presented by Sarah Murphy
Newbridge Library: 14th April 11am-12.30 pm
Parenting is a demanding job which often leaves parents burnt out, guilt ridden or feeling like a failure. Discover how placing importance on your own needs leads to benefits in all areas of your life. Join life coach Sarah Murphy for this important workshop which introduces you to effective self-care practices which nourish the mind, body and soul, increase emotional wellbeing, alleviate anxiety and lead to more satisfying personal relationships. Learn how to implement self-care practices and follow through by designing your own self-care plan. This workshop features meditation, journaling, experiential exercises and more.
The transition from Primary to Secondary School
Presented by Dr Mary O'Kane
Celbridge Library: 19th April 7 pm
The move from primary to secondary school can result in both anxiety and excitement, and that is just for the parents! This is one of the most significant transitions our young teens face. The changes are social, emotional, and academic, as they move from being the 'seniors' in their primary school to the 'juniors' in this new educational environment. Most teens are more resilient than parents expect, however, preparation for this transition can definitely make it smoother. In this talk, Dr Mary O'Kane outlines some of the challenges faced during this transition and offers very practical advice on how we can support.
Please contact the library directly to book a place for talk you are interested in attending:
Athy Library : phone 059 863144 e-mail athylib@kildarecoco.ie
Celbridge Library : phone 01 6272207 e-mail celbridgelib@kildarecoco.ie
Kildare Town Library : phone 045 520235 e-mail kildarelib@kildarecoco.ie
Leixlip Library : phone 01 6060050 e-mail leixliplib@kildarecoco.ie
Maynooth Library : 01 6285530 e-mail maynoothlib@kildarecoco.ie
Newbridge Library : 045 448353 e-mail newbridgelib@kildarecoco.ie
Naas Library : 045 879111 e-mail naaslib@kildarecoco.ie