Now that Christmas holidays have arrived, it is time to look back on all that was happening over the past few weeks.
Christmas:
The Christmas fever certainly arrived and it was lovely to see such excitement and joy!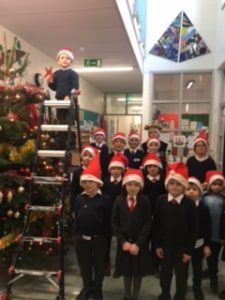 Our Christmas tree was set up in the reception area and decorated by children from each class, with Conor, our youngest student, putting the star on top of the tree.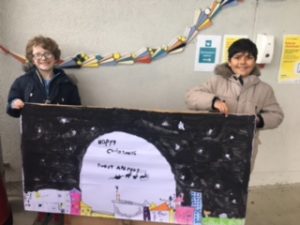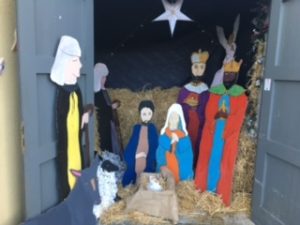 Ms Bambury and children from the Creative Club and other classes were busy making our school crib- it is beautiful and captures the Nativity Story so well.
Thanks to the children in 5th class who organised the Christmas Art Competition. My goodness, we had some wonderful entries- well done to all involved.
The corridors are ablaze with colour and there are many lovely art displays around.
So many also contributed their pictures for the school Advent Calendar- well done all!
And of course, Santa came to visit too, even though he was very busy!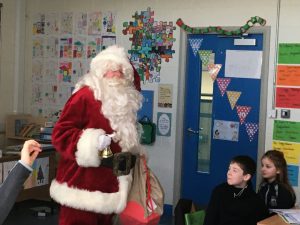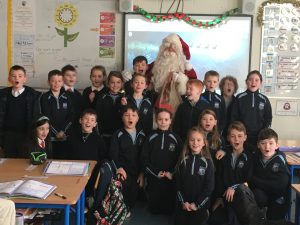 There was much music filling the corridors also over the past few weeks. Congratulations to our junior and senior infants who performed some carols for parents in the hall last Friday. Yesterday we held our Carol Service for the classes 1st-6th in the church. Many of you joined us on the Webcam but we have some video pieces of the event at the links below.
Collections:
Thanks to the school community for your generous support of many initiatives over the past few months too. The PSG ran the Liberty Soup Run shoe box appeal and it was lovely to hear how these presents will be received by other children who are in need. Well done all.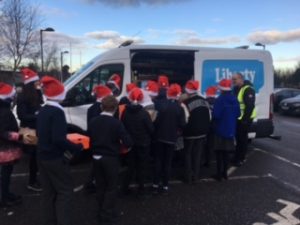 The Children's Foundation Christmas Jumper appeal was a great success and great fun too! We raised over €600 for the hospitals.
Cultural Trips:
We are hoping to arrange for all classes to go on a cultural trip this year. First classes visited the theatre and senior infants were at a film this term. Our choirs performed at the Rush Choral Festival last month and were a credit to the school. See them at the workshop below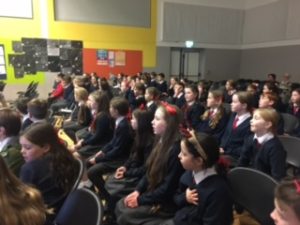 Violin continues for classes 2nd to 5th and we hope to have a performance for parents before the end of the year.
Clubs and Competitions:
Clubs are running successfully, thanks to the talents of older students in organising these. These include drama, 'kicks and tricks', art, singing – so much effort and talent is shown here so well done to all participants
After-school Clubs:
It is great to see the array of after-school clubs on offer, all of which will continue into Term 2.
Sporting Celebrations:
St Anne's was the winner of Cumann na mBunscoil school of the year in Co Kildare. SO much was achieved by our teams this year and I am very proud of all who were involved. Thanks to the staff involved who gave of their time and talent to make this happen
We are also very proud of our past-pupils, Issy, Lila and Gemma who made the U 14 Kildare team and also Ava who is on the U16 team. Well done girls- we will follow the teams with great interest!
Thanks:
Finally, some words of thanks.
To all our wonderful pupils who make St Anne's a hub of excitement and joy.
To the staff of St Anne's whose professionalism shines through on a daily basis. To Nora and Phil who work behind the scenes in keeping everything going.
To the PSG for their wonderful support, organisation of events and great ideas. To the Board of Management who give of their time to support the management of the school.
Thank you, the parents, for your ongoing support and entrusting your children to us. You should be very proud of them all.
May I wish you all a peaceful and relaxing Christmas. I hope 2023 brings much joy and happiness to your family
Warm regards,
Mary Manley