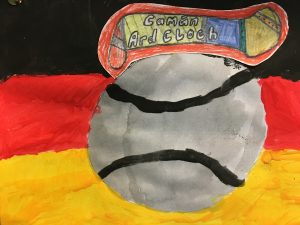 Sport Updates
– Best wishes to the Ardclough team in the Senior Kildare Hurling final on Saturday from everyone in St Anne's!
– Hurling training with Jason Coffey is on Thursday for senior infant and 1st classes (thanks to Ardclough GAA for arranging this!)
– Other training and matches notices will be forwarded during the week
Violin:
Our classes with Maria Mason continue this week for classes 2nd to 5th.
A gentle reminder to all to send in subscription at your convenience- we need everyone's contribution to ensure that we can run the programme
A piano has been donated to the school and is not in situ in Room One
Swimming:
Third classes continue with their swimming lessons on Mondays
Maths Week:
We wish everyone an enjoyable Maths week next week. I know the senior classes will enjoy their trip to Castletown for Maths Trails
Clubs
6th class Clubs continue on Wednesdays at lunch time.
Lego Club
Well done to all who are attending Ms Malone's Lego Club- amazing constructions are being created there (see website for photos)
Talent Show: Thanks to all who are taking part in the Talent Shows at the moment and to the girls from 6th and 3rd who have been busy organising these
It is a treat to see so many talented children in St Anne's and such a wide variety of acts
Well done to all
The PSG AGM is on this Monday, October 15th at 7.30pm. All parents are encouraged to attend
Poet in Residence:
We are delighted to welcome poet, Lucinda Jacob, who will be working with 5th class for a number of weeks. I know it will be an enjoyable experience for all. We look forward to seeing the fruits of their work!
Date for the Diary
A reminder that the school will be closed on Oct 19th for staff in-service. The school will not be closed on election day
Quote for the Month (see Reception area)
Our quote for October is:
' When Plan A doesn't work remember there are 25 other letters in the alphabet'
We don't always get things right the first time and the important thing is to keep trying