ST ANNE'S NEWSLETTER MAY 2016
Another busy month!
(see photos of events below on our website gallery)
School Mosaic
Artist, Katy Palmieri continues to create the St Anne's /Ardclough story through mosaic. Katy will facilitate workshops with all classes this week and next week and we look forward to the installation of the final pieces, including the children's work, over the coming weeks.
Ardclough Tidy Towns
Fifth class students and the Green School committee are linking with Ardclough Tidy Towns currently. They have completed a survey on food waste and will be busy planting over the coming weeks to enhance the look of the school environs….keep an eye out for this as you visit the school!
Sacrament of Communion
Congratulations to all the children who made their First Communion on Saturday May 28th. It was a wonderful day of celebration for the school and we were delighted to meet with the children, their families and friends at the social event in the school after the ceremony
Dubai Duty Free Irish Open trophy visits St Anne's
On Monday May 16th last we were fortunate to host a visit of the Dubai Duty Free Irish Open trophy at St Anne's. It was an exciting event!
Well-known professional golfer and Ryder Cup Vice Captain, Des Smyth, led the group and members of the European Tour organisers and the Rory Foundation were also present. Brian Mc Ilroy, uncle of Rory, gave us an insight into his nephew's life and achievements, as well as the work that is done by the Rory Foundation.
Thanks to the PSG who organised tea and coffee (in the sun!) and to Brigid Butler of Kildare County Council for bringing the opportunity to us.
The event concluded with Des Smyth taking on two 5th class boys, James and Billy, in a putting competition. I'm sure the cheers could be heard across Ardclough and beyond!!
Sports
Our sports teams are busy this term with many events being held. We wish all every success and enjoyment.
The lunchtime football league continues with all children in 5th & 6th county teams competing well for the Principal's Cup
Congratulations to the senior boys on reaching the semi-final of Cumann na mBunscoil league last week and well done on a great game
We wish the girls Camogie team all the best in the final next week- we will be there to lend our support!
Thanks to all the teachers and other trainers who make participation in these events possible.
A reminder that SPORTS DAY will be held on Wednesday June 15th next (weather permitting). The intention is to hold this in the new field
Workshops:
Visit of an Illustrator
Caitriona Sweeney, well known children's book illustrator, visited 2nd and 3rd classes recently. Children heard about how she depicts stories through her illustrations and they had an opportunity to create their own illustrations under Caitríona's guidance.
Thanks to Kildare Library for arranging this for us (other workshops to follow on different topics in June)
Rap Artist works with Children from St Anne's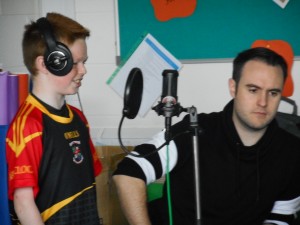 The senior classes worked with Gary Mc Carthy, GMC Beats, last week. They recorded a fabulous rap – working from creating lyrics to doing a full recording of the class piece. This will be released in school soon……watch this space!
Car Raffle PSG
Thanks to all who have bought tickets for the car raffle. As soon as all tickets are sold the raffle will take place and valuable funds will be available to us to develop the field
Special Projects
Maths Eyes
Congratulations to Ms Owens' class for taking part in the Maths Eyes Initiative over the year. This is a great initiative which encourages children to see maths all around them in their everyday lives. Children representing the class were invited to Dublin West Education Centre this week to showcase their work and to join in celebrations with other schools across the country.
Creative Schools Award
Ms Owens class were also involved in the ACAE Creative Schools Award this year. Six pupils represented the class at an award ceremony in the Ark Cultural Centre in Dublin on Tuesday last an. There they participated in workshops, viewed a drama and presented their project to tv personality, Sile Seoighe
Well done all.
New Junior Infants
We welcomed new junior infants into school on Friday last for an Introduction to St Anne's. We will have two junior infant classes next year. Children visited their new classrooms and parents received information about supporting children as the start their primary education.
We look forward to meeting with all the children and their parents again in September!
School TV
We have installed a new tv in reception. On this we will post messages and also show photographs of different events that take place in the school- come in and have a look at these!
Yard Angels
Children in 2nd class have volunteered to be 'Yard Angels' in the junior Yard. They will support younger children by chatting to them and finding someone for them to play with if they are on their own. Children who feel lonely, want to chat or play stand on a star and the yard Angel will assist them.
Thanks to all in 2nd class who are doing this!
Tours
This is the season for class tours and we wish everyone a great day! Please remember to pack suncream, suitable clothing and drinks for the day. Remind children of need to keep safe on the day!
I wish you all a pleasant and relaxing bank holiday weekend.
Mary Manley