Dear parents and students,
I hope you all had a nice long weekend. Such great weather so hopefully you got out in the sun and had some fun.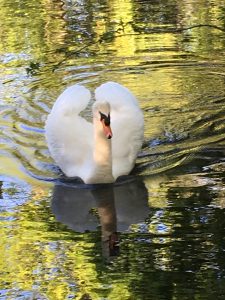 As you know, the timeframe for the lifting of restrictions was set out for us all on Friday last. It is good to see that we are all making a difference and that there is some easing ahead. The news that schools will not re-open until September is disappointing, though understandable, from a health and safety point of view.
As of now we have no further details from the Department of Education. Once we have some update, and we have had time to consider the best ways forward, we will let you know. There is a lot to be organised in terms of class allocations, booklists, reports, calendar of events and so on and we will be in touch with you on all of these over the coming weeks.
While you may be feeling some disappointment, I urge you to continue to do the great work that you are doing. It is important to link in with your teacher on See Saw and to upload your work- all of this should be in line with your parents and sibling needs too of course. Regular work now will certainly help you in coming back to school in September.
A number of events such as tours, sports day and so on will not be going ahead this term but we look forward to hosting these and many other events next year, in the best way we can manage.
I am particularly aware of those in 6th class who will not be able to finish their time in St Anne's in the usual way. Believe me, we all wish it were different, as you are an amazing group of students who have contributed so much to the school. If we can mark this occasion, we certainly will. Of course, both you, and those in 2nd class, were preparing to receive the sacrament of Confirmation and Communion. Again, we have no update on that.
However, Bishop Nulty has sent some information, which will be of interest to those in 2nd who are to receive First Communion. See below and also the resources to go with this on our school website
Bishop Denis has recorded a message for the children who were preparing to celebrate their First Holy Communion in the coming weeks. That video can be watched at https://www.facebook.com/KANDLEi/videos/284722092537437/ and will shortly be up on kandle.ie. Bishop Denis is asking you to do three things as they continue to get ready for their First Holy Communion whenever it will eventually happen; 1 Make a Prayer Space at home into A May Altar; 2: Pray a decade of the rosary and 3: try to go to Mass on Livestream.
I am also very aware of our new students, both those who have just started in St Anne's, and those who are due to start in junior infants and other classes next year. I will be making contact with you all shortly with regard to coming into St Anne's. We will not be in a position to arrange an information evening for infants, as is usual, but we will support the children's transition to big school in the best way we can. More to follow on this.
And a word to those in the choir who were on the trip to St Catherine's in Rush last year with me- we were due to go again this year. Of course that had to be cancelled but you may remember Alan, who hosted the workshop? He is holding an online workshop on Wednesday next at 2pm on Zoom. I will send a note on Aladdin to the senior classes and you can respond if you wish to join in. It should be fun!
So moving forward, we will continue with work on See Saw and will explore the best ways to meet everyone's needs for the weeks ahead.
We have sought to address some queries and suggestions about SeeSaw that have come in, below:
Firstly, please know that we are aware that circumstances are different for each family. We realise that each family will set up the working week as best suits their need and we know that, with parents working from home and a number of children seeking access to devices, work will come in at different times. We are also aware that younger children will most likely need more assistance than older children and indeed that internet coverage can let us all down at times.
Having a number of children accessing See Saw can be difficult. Unfortunately a family log in is not possible on this system. However one option would be to use the QR code that was available in the original link sent to you for access to See Saw (this could be printed off for each child and used to access the app quickly)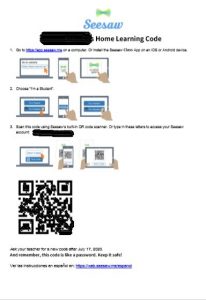 Please use SeeSaw to correspond with teacher if needed (this is set up now so that individual work is not visible to all). It is like sending in a note in the homework journal and teachers are accessing every day to arrange and view work. In the event of any serious concern feel free to contact the office (office@stannesardclough.ie) and I will pass to teachers.
In order to have consistency across classes the following arrangements are in place:
A weekly schedule is set up for children in each class. This is sent out by 9am on Mondays at the start of the week and will be available in the Announcement section
Children can view what is to be done across the week and complete the work at a time that suits home circumstances. It will involve work from textbooks and some other activities
Note announcements may be showing differently on different devices…..if you have any difficulty, perhaps pasting the announcement to a word document would make it clearer
Activities will be posted to the Activity section on a daily basis. These are available on a particular day but, as outlined above, may be completed at a time that is convenient. Work that is in the activity section (or other worked identified) is for returning to teacher.
Other work may be self-correcting and teachers will forward the correction sheet for these
Children's Journals in See Saw- Posts from children are in put in their journal and children should check this regularly for individual notes
Teachers will archive work on fortnightly basis so as not to have too many activities building up
Printing & Responding: Hopefully there isn't much need to print off work- worksheets should be kept to a minimum. If using a text box is difficult then do the work in the workbook or copy and take a photo and upload
If you have queries regarding the format of work, please contact the teacher through a note on See Saw as mentioned above.
As we move forward into May and June, I wish you all safe and healthy days.
Well done to everyone on embracing the changes that have come our way. I look forward to many exciting days ahead in St Anne's.
For now we will continue on this journey as best we can and remember, as my nephew sent to me recently…..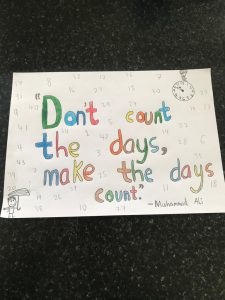 Best wishes
M Manley