As this period is ending and another set of work is going up on a separate page, I will fill in the answers for various exercises here and hopefully this will help you to greater understand any problems you may have had. Again please remember any questions you may have. Write them down somewhere and once See Saw is up and running, you will be able to send them to me.
Core work for Wednesday 18th to Friday 20th March.
Answers in red
Gaeilge: Abair Liom
Wed: P. 102 E. Ba bhreá liom…. a….
Ba bhreá liom:
scannán a fheiceáil.
cáca a ithe/dhéanamh.
leabhar a léamh/scríobh.
peil a imirt.
scéal a insint/scríobh/dhéanamh.
feisteas a chaitheamh/dhéanamh.
Thurs: P. 103 G. Críochnaigh na habairtí
sásta
neirbhíseach
brónach
scanrúil
feargach
suimiúil
Fri: P. 104 H. Briathra: An Aimsir Fháistineach – briathra neamhrialta
Beidh mé
Cloisfimid
Déanfaidh siad
Beidh sí
Cloisfidh sibh
An mbeidh tú
Déanfaidh sé
Beidh tú
Déanfaidh sí
Ní chloisfidh tú
An ndéanfaimid
Beidh an fhuaim…cloisfidh Mam
Translate the following: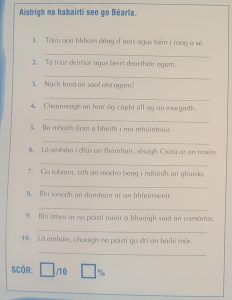 I'm 11 and I'm in sixth class.
I have 3 sisters and 2 brothers.
Haven't I a great life!
The young man bought a couple of apples at the market.
I would like to be a teacher.
One day at the start of autumn, Ciara sat on the train.
Suddenly, the small dog ran after the guard.
The farmer was very surprised (The surprise of the world was on the farmer!)
The children were happy when the won the competition.
One day, the children went to the big town.
Maths: Mathemagic: Wed: P. 116 Questions 1 to 12
Thurs: P. 117 Questions 1 to 3
Fri: P. 118 Questions 1 to 18

Hint: Try a few questions from page 115. This is the exact opposite of the previous work where we found the profit and loss when knowing the cost price. Remember the cost price is always 100%.
Looking at Page 115, Question 2 (a), if the selling price is €15 and the profit is 25% the sum is:
Cost price (100%) + profit (25%) = Selling price (€15)
(100% + 25%) 125% = €15
(125% = 5/4) 5 quarters = €15
¼ = €15 ÷ 5 = €3
4/4 (100%/Cost Price) = €3 x 4 = €12
Similarly with loss (see question 3(a)):
Cost Price (100%) – Loss (10%) = Selling Price (€18)
(100% – 10%) 90% = €18
(90% = 9/10) 9 tenths = €18
1 tenth = €18 ÷ 9 = €2
10/10 (100%/Cost Price) = €2 x 10 = €20
English: Reading Zone: Page 101 Wed: E: Grammar
Thurs: F: Character Description
Fri: G: Summarise
Read the first three chapters of "The Lion, The Witch & The Wardrobe". Be ready to answer questions on these chapters by next week.
Core work for Monday 23rd to Friday 27th March.
Gaeilge: Abair Liom
Mon: P. 105 I. Focail cheisteacha. (first part)
Cé

Cad

Cén

Cén fáth
Tues: P. 107 L. Scríobh an scéal. Use the phrases given at the bottom. 3 sentences for each box.
Sampla:
Lá breá brothallach a bhí ann. Chuaigh na buachaillí go dtí an páirc. Bhí táibléad agus liathróid acu.
Chas Daithí an táibléad ar siúl. Thosaigh Seán ag déanamh cleasa leis an liathróid. Rinne Daithí físeán.
Ansin, thóg Seán an táibléad agus thosaigh Daithí ag déanamh cleasa. Ach chiceáil sé an liathróid isteach sa loch. Bhí Seán sna tríthí gáire!
Bhí ar Daithí dul isteach sa loch chun an liathróid a fháil. Rinne Seán físeán eile ar an táibléad. Nuair a tháinig Daithí amach bhí sé fliuch báite agus bhí sé ar buile ach cheap Seán go raibh se thar a bheith greannmhar!
Wed: P. 109 H. B. Freagair na ceisteanna.
Read the piece and answer questions. Use the words in the question to find the answers.
Bogadh tobann sa talamh is ea crith talún.

Fuair níos mó ná 8,000 duine bás.

Stoirm mhór is ea hairicín.

I gceantar an mheánchiorcail a tharlaíonn formhór na hairicíní.

Sraith tonnta ollmhóra is ea súnámaí.

Tagann tonnta ollmhóra i dtír agus leagann siad gach rud atá rompu.

Tharla súnámaí uafásach agus fuair idir 230,000 agus 280,000 duine bás.

Tharla dóiteán ollmhór in Alberta, Ceanada, i 2016.

Tarlaíonn dóiteán foraoise go minic san Astráil mar tá sé an-te agus an-tirim san Astráil.
Thurs: P. 110 D. Conas a bhíonn an aimsir in Éirinn? 1-6
Sampla
Bíonn sé fliuch go minic.

Bíonn scamaill sa spéir de ghnáth.

Ní bhíonn stoirmeacha ann i rith an tsamhraidh.

Bíonn sé gaofar an bhliain ar fad.

Ní bhíonn sé te gach lá.

Bíonn sé níos fuaire i rith an gheimhridh.
Fri: P.111 F. Dán "An Fear Bocht" Read and write a translation of the poem.
"The Poor Man"
Open the door,
People of the House,
The night is cold and wet
And the wind is rough.
It's a poor man I am,
Without friends, without a house.
Open the door
And let me in.
You're welcome in,
You are cold and tired.
Take off your coat
and sit on the stool.
And you will get your fill
with eating and drinking.
Translate the following: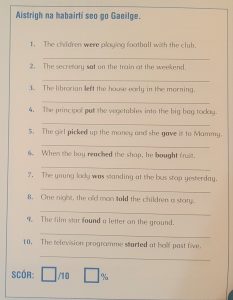 Bhí na páistí ag imirt peil leis an gclub.

Shuigh an rúnaí ar an traein sa deireadh seachtaine.

D'fhág an leabharlannaí an teach go luath ar maidin.

Chuir an príomhoide na glasraí isteach sa mhála mór inniu.

Phioc an cailín suas an airgid agus thug sí do Mhamaí í.

Nuair a shroich an buachaill an siopa, cheannaigh sé torthaí.

Bhí an bean óg ina sheasamh ag stad an bus inné.

Oíche amháin, d'inis an seanfhear scéal do na páistí.

Fuair an réalt scannán litir ar an talamh.

Thosaigh an clár teilifíse ar a leathuair tar éis a cúig.
Maths: Mathemagic: Mon: P. 119 Questions 1 to 7

Tues: P. 120 Questions 1 to 6 (part (a) only), question 7 all. P. 121 Questions 5 to 8
Hint 1: To find value for money, find the cost of 1 item. For example in question 1:
(i) 7 apples cost €2.45. €2.45 ÷ 7 = 35c (1 apple)
(ii) 5 apples cost €1.80. €1.80 ÷ 5 = 36c (1 apple)
So far, (i) is better value as each apple is 1c cheaper.
Hint 2: Interest is the same as profit in the previous chapter, find the percentage and add it on. The only difference is for 2 years, add it on twice, for 3 years, three times etc.
Wed: P. 122 Questions 1 and 2
Hint: As it says in the yellow box, multiply the exchange rate by the number of euro.
Thurs: P. 123 Questions 1 and 2
Hint: Again, find the percentage and add it on.
Fri: P. 124 Questions 1 to 11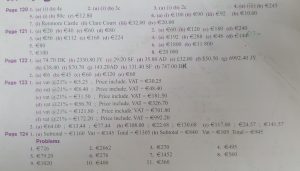 English: Reading Zone: Unit 21 Mon: P. 105 A: Fact Finding (Read story first!)
Tues: P. 105 B & C (as normal)
Wed: P. 106 E: Grammar
Thurs: P. 106 F: Character Description
Fri: P. 106 G: Summarise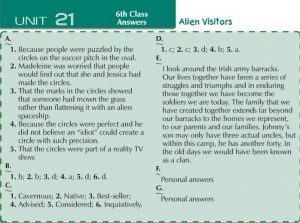 Work to be completed over the two weeks
History: Complete a line of development study on the "Evolution of Transport". Use the Internet to research various means of transport throughout history and attempt to put together a line of development, for example, ancient tribes building simple boats up to cruise ships and submarines today. How did this happen? What inventions and discoveries were made in the years in between to make it possible? Look at transport on land, on water and in the air. I will be asking to see some evidence of this study on SeeSaw at some point.
Geography: Geography Quest P 1: The Structure of the Earth.
Read chapter and complete the following activities:
Activity B 1-6,
Crust

Hot molten rocks

No

Iron & nickel

Eurasian Plate

USA, Canada, Mexico, Japan, Russia, Papua New Guinea
Activity C 1-4
Movement of plates

It measures the strength of earthquakes

A giant wave.

There is a fault here caused by plates either moving apart or clashing against each other.
Activity D 1-4
Lava

Mount Etna, Mount Vesuvius

No

(a) Active Volcano is likely to erupt at any time. (b) Dormant volcano is not active at the moment but it could become active again at some point. (c) Extinct volcano was once active but will never erupt again.
Science: Science Quest P 1: Potato Power!
Read chapter and complete experiment on page 1. Discuss what the results tell you.
Visual Arts: Using an egg carton (body), four toilet rolls (legs) and a cereal box (to create head and tail if needed) create an animal to be displayed when we meet again! Use paint or whatever colours you have to colour in/decorate your animal. You can create any animal you want, I've seen horses, giraffes, elephants, dogs, pigs and many more in previous years! (Tip: it's easier to paint the egg carton if you glue some white paper onto it first.) I will be looking for an image of your creations online!
Print and colour "The Scream" by Edvard Munch. Research the piece and the artist. Again I can't wait to see all your efforts!
The Lion, The Witch and the Wardrobe
Answers to questions from chapters 1 to 3.
Chapter 1: Lucy Looks Into a Wardrobe
Vocabulary enrichment activities:
1. The children were sent to stay with the Professor because of the air raids.
2. Peter thought they had fallen on their feet.
3. After the rooms full of books, they found a room that was empty except for a big wardrobe with a looking-glass in the door.
4. When Lucy found herself standing in the middle of a wood, she felt both frightened and inquisitive.
5. The first person she met in the wood was wearing a red muffler.
Comprehension – Answer the following questions based on Chapter 1.
1. Where did the children live before this story began?
In London
2. Why was Edmund bad-tempered the first night at the Professor's house?
Because he was tired and pretending not to be.
3. How did the adventures begin?
With the children's decision to explore the house because it was raining and they couldn't go outdoors.
4. What first made Lucy realize that something queer was happening in the wardrobe?
She felt something soft and powdery and cold when she heard something crunching under her feet.
5. What did she think that convinced her it was safe to go on and explore?
"I can always get back if anything goes wrong."
6. What was the source of the light in the wood?
A lamp-post.
Chapter 2: What Lucy Found There
Vocabulary enrichment activities:
A. Fill in the blanks with the words or expressions from the lists above that make the most sense based on the story.
1. Mr. Tumnus invited Lucy to have tea with him, and served her toast and sardines and cake.
2. One of the books Lucy saw on the shelf was titled The Life and Letters of Silenus.
3. Mr. Tumnus told wonderful tales of how Nymphs and Dryads used to come out to dance with the Fauns.
4. He also talked about Red Dwarfs, and Bacchus sometimes visiting the forest, and weeks of jollification.
Comprehension – Answer the following questions based on Chapter 2.
1. What does Mr. Tumnus's phrase "Daughter of Eve" mean?
a human girl
2. How did the faun convince Lucy to come to his cave?
By inviting her to tea.
3. How did he entertain her after they had eaten?
By telling her stories and playing his flute.
4. What happened when Lucy said she had to go?
Mr. Tumnus burst into tears.
5. What had Mr. Tumnus promised to do with Lucy?
Turn her over to the White Witch.
6. What did he fear would happen to him if he failed to keep his promise?
His tail and horns would be cut off, his beard plucked out, his hoofs turned solid, and he might be turned to stone.
7. Why did he decide not to keep the promise anyway?
Because once he got to know Lucy he couldn't betray her.
Chapter 3: Edmund and the Wardrobe
Vocabulary enrichment activities:
A. Fill in the blanks with the words or expressions from the lists above that make the most sense based on the story.
1. Peter rapped his knuckles on the back of the wardrobe to make sure it was solid.
2. Edmund sneered and jeered at Lucy for the next few days.
3. When Edmund couldn't find the door of the wardrobe, he began groping wildly in the dark
4. When Lucy didn't answer him, he thought she was sulking and refusing to accept his apology.
5. After a few moments, a sledge drawn by reindeer came into view.
6. The dwarf's beard covered him in place of a rug.
7. "What, pray, are you?" the Lady asked Edmund.
Comprehension – Answer the following questions based on Chapter 3.
1. Why was Lucy surprised that her siblings hadn't been wondering where she was?
Because she thought she had been gone for hours.
2. What did they find when they looked into the wardrobe?
Nothing unusual; just an ordinary wardrobe.
3. Why didn't Lucy make up with the others by saying she had just made up the story of her adventure?
Because she knew it had really happened and she wouldn't lie.
4. Why should the next few days have been delightful, and why did Lucy not enjoy them?
The weather was fine and the children spent a lot of time outside playing, but Lucy couldn't enjoy herself because Edmund was treating her badly and she knew nobody believed her.
5. Why did she not mean to hide in the wardrobe during hide-and-seek?
Because she knew the others would start talking about her and her adventure again.
6. Why did Edmund follow her into the wardrobe?
To continue teasing her.
7. What was his first clue that something unusual was happening?
His voice had a curious out-of-doors sound.
8. Why did he think Lucy didn't answer his call?
He thought she was ignoring him because she was angry about how he had been treating her.
9. What was Edmund's first impression of the Lady on the sledge?
He didn't like the way she looked at him.
10. Who did the Lady say she was?
The Queen of Narnia
LWW study guide

Note from SEN Team
For children receiving extra support from Ms Dalton, Mrs Kelly, Mrs O'Connor and Ms Malone, you may find the following information useful.
English:
Reading:
Read any book/comic/magazine/internet article etc. that is of interest to your child, with your support if necessary, and then do the following;
The child retells the story in their own words.
You ask who/what/where/when/why/what if questions in relation to what was read.
The child writes a short paragraph about what they have read.
For the junior classes-continuous practice of sight words is important.
Spelling:
It is important to keep up with the *SOS (Say the word, Say the letters as you write them, Say the word again) and Look Say Cover Write Check approaches in relation to class spellings work i.e.
Writing:
Keep a diary of daily events, you can illustrate this if you wish.
Useful sites:
Maths:
Continuous practice of sums using pencil and paper as appropriate for your child's class level i.e. addition, subtraction, multiplication and division (please include subtraction and addition with renaming, long multiplication and long division as appropriate.)
Tables Practice: Oral drills on all tables covered to date, the Hit The Button game accessed on topmarks.co.uk is extremely helpful.
Maths practice as above must be practiced daily so that progress made to date will be maintained.