The 2017 Lunch Time League began at the start of May. The children from fifth and sixth classes were split into eight teams and then each team drew out a county name and play as that team. Each team will play every other team before the top four compete for the Principal's Cup and the bottom four compete for the Principal's Shield. We have now played five rounds and the league table can be seen below.
Group stage after 5 rounds
Competitor
Pl
W
D
L
PF
PA
+/-
Pts

1

Galway

5

3

2

0

67

48

19

8

2

Sligo

5

3

1

1

86

88

-2

7

3

Cork

5

3

0

2

77

45

32

6

4

Armagh

5

2

1

2

55

53

2

5

5
Kildare
5
2
1
2
65
66
-1
5
6
Dublin
5
2
0
3
60
46
14
4
7
Donegal
5
2
0
3
50
92
-42
4
8
Kerry
5
0
1
4
37
59
-22
1
Here's is each team's story so far:
Armagh (by Noah, James & Seán)
Team: Noah Harmon (C), Aoibheann Cuffe, Mia Clerkin, James Goulding, Eoghan Light, Peter Maguire, Rowan Matthews, Aoife Moore, Seán Walsh
Armagh 6 vs Donegal 10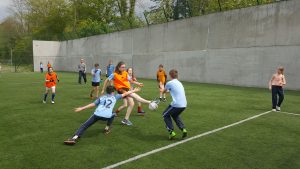 In the first half, the team had an absolute shocker scoring no points or goals. Donegal had a 2 point lead at the break. Armagh needed to start off well in the second half and they did so with 2 goals in quick succession. The attack did their part to get 2 goals but the defence didn't do theirs as they conceded 2 boy goals and 2 boy points.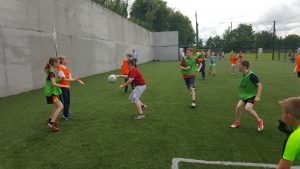 Armagh 6 vs Dublin 2
We started well in the first few minutes. The defence was tidy and the attack was sharp. We were up 2 points in the last 2 minutes of the half but Dublin came back with 2 points to match us heading into half time. We knew we couldn't afford to concede anymore and we didn't. Our attack was strong winning the game for us with a goal and another point.
Armagh 20 vs Sligo 20
We did brilliant in the first half with 1 boy goal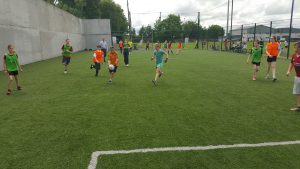 and 9 points. In the second half we did worse as the defence was tired. Sligo scored 6 goals and 2 points we scored 2 girl goals and 2 girl points. We were devastated. We could not believe we didn't win that game.
Armagh 7 vs Galway 12
In the first half we did brilliantly, scoring a boy goal and 2 points and Galway had 3 points. Eoghan scored a cracker of a goal from just inside the halfway line. In the second half, our team went to sleep and we conceded quite a lot. It was disappointing, as we had done so well in the first half.
Armagh 14 vs Kerry 9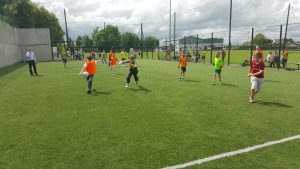 The team finally put in a great performance, our tactics worked. We moved Eoghan into a more defensive role to keep the defence tidy for the game. Eoghan went for a point but it dipped into the bottom corner in the goal and gave us the lead going into half-time. In the second half, we kept our lead. Rowan scored a good point. James let a shocker of a goal in which put a little bit of doubt in our heads but we still won. This was a massive boost to our confidence as we moved    into the top four.
Cork (by Jack, Thomas, Evan & Susanna)
Team members:   Leah Tyndall (C), Saoirse Aherne, Jack Caffrey,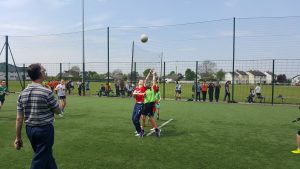 Thomas Finneran, Evan Gilchrist, Susanna Kelly, Max Lavelle, Aoibhe Lyons and Luke Wiseman.
After five games, we think Cork have done ok. We are third. Our first game was against Sligo, who we beat 31-5. Our second game was against Kerry, who we also beat 15-2. Our third game was against Kildare, who were second at the time. We won 18-13 putting us two ahead of Galway at the time.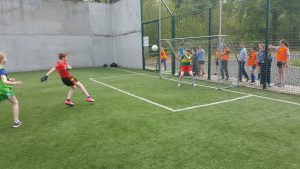 Our fourth game was against Dublin, who we lost to by four points. Liam's sublime goal won them the game. They were given Noah instead of Sam. Susanna was injured. Evan couldn't kick the ball because of a hurt ligament. The crowd was up for Dublin because they were last. Our last game was against Galway. It was first against second and everything was to play for. But, unfortunately we didn't perform at our best. We lost 7-17 which put us third in the table. Cal got three goals and Adam got one. We didn't play well but we will try our hardest to beat Armagh and finally Donegal. Hopefully we win the rest of the games and claim that 1st prize. Up the rebels!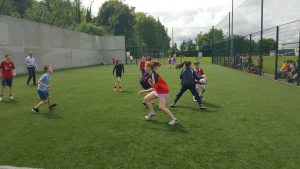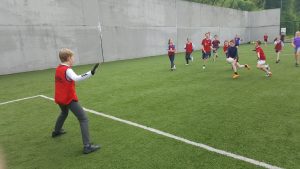 Donegal (by Robyn)
My team is Donegal. Our team includes James Byrne [captain],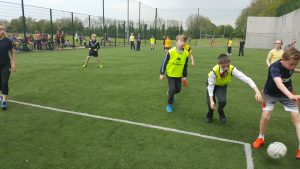 Ava Duggan, Kyle Kelly, Sophie Knightly, Anna Langan, Darragh Miller, Robyn Molloy, Sean Murray and Alexander O'Shaughnessy. Our team colour is yellow. So far, we have played five matches and we won two and lost three.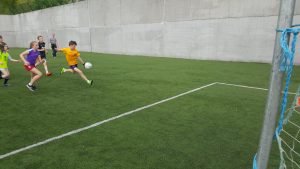 Our first match was against Armagh. We won by four points and the score at the end was 10 to 6. We were
delighted. Our next match was against Sligo which we lost 33 to 17. We were really upset afterwards.
Our third match was against Kerry. We won 11 to 10.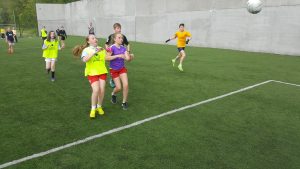 I was absent for this match but my teammates said it was very close. Then we played against Kildare. We didn't do very well in the first
half. We did better in the second half but it unfortunately didn't pay off we lost 16 to 6.
T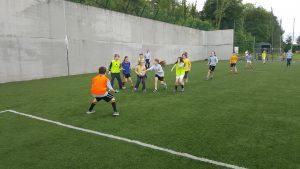 his week we played against Dublin. Our captain James went home early so we got a sub. We played better in the second half, but in the end we lost 27 to 6. Next week we play Galway who are in 1st place.
We are currently in 7th place. Hopefully we will do better in the last few matches.
Dublin (by Liam & Anna)
Our team is: Hannah Lawlor (c), Liam Dempsey, Anna Donohoe,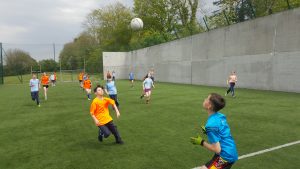 Martha Grogan, Sam Lynam, Jamie O'Connor, Daniel Saunders and Hollie Smith.
Over the last few weeks, the lunchtime league has started in the school. We are over halfway through the competition with five games played. Now with five games played Dublin have 4 points and are 6th in the league table.
Our first game was against Kildare,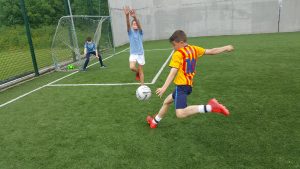 which unluckily we lost 12-11. In our second match we lost to Armagh by four points with the final score being 6-2. Our third game was against Galway, which we again lost 16-10.
Finally, we won a game against Cork who were at the top of th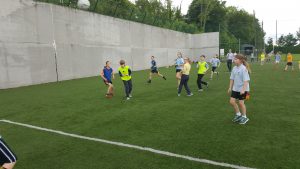 e table. The crowd was for Dublin. We dominated Cork from the first whistle to the last. Everyone gave it their all and we won that game by four points. The final score was 10-6 to Dublin. It was good to get a win.
The fif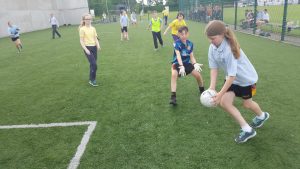 th game that Dublin played was also won. The game was against Donegal. We played really well and at halftime the score was 10-6 to Dublin. We worked together in the second half and because of that we won the game. The final score was 27-6 to Dublin. Our next game is against Sligo.
Galway (by Lauren)
Our team is Galway. Our team includes our team captain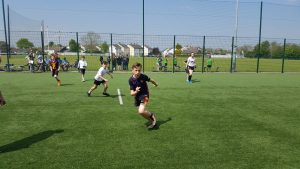 Joshua O'Reilly, Bobby Binch, Cal Duggan, Oliver Finneran, Tory May Finnerty, Adam Gray, Molly Griffin, Aoibhean Power and Lauren Stewart. Our team colour is maroon.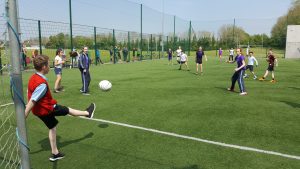 We have played five Gaelic matches in the Lunch Time League over the past five weeks. We have won three matches, drawn two and luckily, we have not lost any so far.
In our first match we played against Kerry. We ended up drawing with them 10-10. A win would have been better but at least we didn't lose.
In our next match we went agai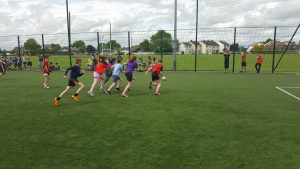 nst Kildare. We were close to losing but as I hoped in the end, we pulled through with a draw and the final score was 12-12.
In the third match, we played a great game against Dublin and we finally got our first win in the league by six points with a 16-10 win!
In the fourth match we played we were going against Ar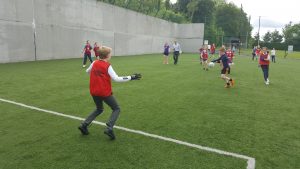 magh. Again it was very close but in the end we won by three points, 12-9.
In our fifth match we played against Cork. We both played well but we won 17-7 since we mostly went for goals while Cork went for points. After our fourth match we were in second but following our win against Cork we boosted up to first place in the league table.
Kerry (by Billy & T.J.)
Team: Jill McKenna (c), Ciara Connolly,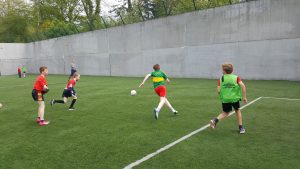 Billy Dowling, Jonathan Forster, T.J. Knightly, Emily McKenna, Patrick O'Sullivan and Hannah Rahman.
Kerry vs Galway

The first game Kerry played was against Galway. Kerry played a great game but sadly, we drew. We scored ten points, two boy goals and four boy points.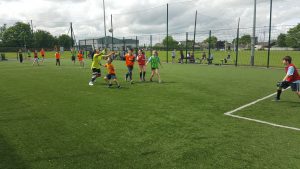 Kerry vs Cork
Kerry's second game was against Cork. We put up a good fight but sadly, we lost. We scored two boy points to four boy goals and three boy points.
Kerry vs Donegal
Kerry's third game was against Donegal. Kerry had an amazing first half but fell a little in the second half. In the end, it was very close. Kerry would have won if Billy Dowling's goal wasn't disallowed. We scored two boy goals and four boy points to two boy goals and five boy points.
Kerry vs Sligo
Kerry and Sligo was also a very close match.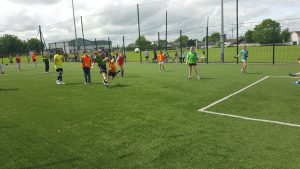 We didn't have Billy Dowling so we got Aran Gahan instead. We played well but unfortunately the ball hit off T.J.'s leg and went into his own net in the last second and we lost by a point.
Kerry vs Armagh
Kerry against Armagh was tough because Kerry were miss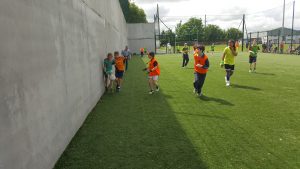 ing Billy and Patrick. Also Armagh had an extra player. The score was 14 points to 9. Armagh scored three boy goals two boy points and a girl point. Kerry scored three boy points, one girl goal and a girl point. In the end it was a very good match.
Kildare (by Aoife, Síofra & Cathal)
Team members: Aoife Kelly (c), Kimberly Courtney Cross, Aran Gahan,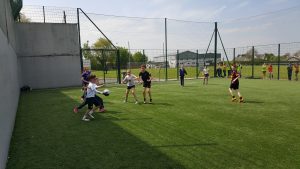 Cormac Graham, Sofia Macari, Senan O'Toole,  Síofra Power and Cathal Reeves.
Over the last few weeks, we have been taking part in a competition that we call the lunchtime league. Here are some of Kildare's match reports.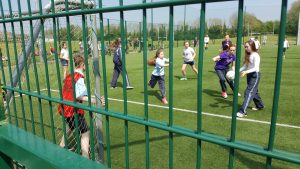 Our first match was against Dublin (Hannah Lawler(c)). In the first half Aran scored a goal and a point and Cormac scored 2 points. As the Dublin team started scoring, it was getting very close. The result was 12-11 to Kildare. It was a tough match but we managed to come out on top.
The second match we played was against Galway (Joshua O'Reilly (c)). They were a very good team and they put up a fight. It was staying pretty even throughout the game and it ended as a draw. The match finished with a score of 12-12.
The third match we played was with Cork. It was a very hard match as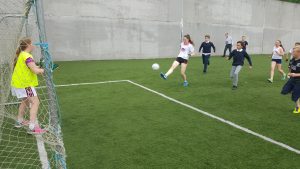 they are a very strong team. We gave it our best effort but sadly, we were beaten. The score was 18-11 to Cork.
Our fourth match was against Donegal (James Byrne (c)). It was a very good match and they were a great team. For a while, it was pretty even but we beat them. The final score was 16-6 to Kildare.
The fifth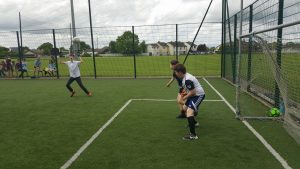 match we played was against Sligo (Patrick Brophy (c)). It was a tough match and they were a strong team. The final score was 19-14 to Sligo.
Sligo (by Patrick, Iona & Patrick)
Over the last few weeks, sixth class and fifth class have been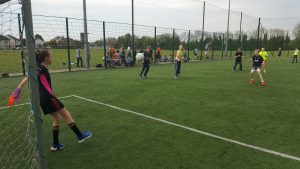 competing in the Lunch Time League. The Lunch Time League consists of eight teams, each named after a different county in Ireland. Our team, as the title implies, is Sligo. Our captain is Patrick Brophy. Each team consists of eight or nine players.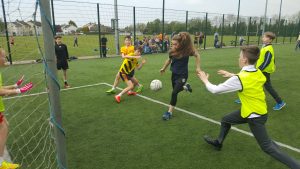 Our team members are Patrick Brophy, Eve Byrne, Tom Coyle, Iona Finnerty, Patrick Hoque, Oisín Philips, Sarah Reynolds and Ben Tynan. We wear the colour black because Sligo's jersey is black.
So far, we have played five games against Cork, Donegal, Armagh, Kerry and Kildare. We lost to Cork in our first match, we won against Donegal and we drew with Armagh. Then we won against Kerry and we won against Kildare. Now Galway are in first place, we are in second followed by Cork in third, and Armagh are in fourth.