by Ryan, Aarron, Gavin & Harley
December 2020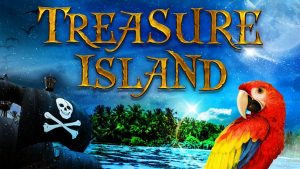 Over the last six weeks, we have been reading "Treasure Island" by Robert Louis Stevenson.
This book is about Jim Hawkins, who is a cabin boy among a group of pirates and friends. They are sailing to an island where they want to find the treasure of Captain Flint!
The novel has 34 chapters that are split into 6 parts and we read one part every week. At the end of the week, we would do a revision quiz on Kahoot. After the quiz ends, we discuss it in class.
In one art lesson, we had to recreate the cover of the book and there were lots of great ideas. Many people drew ships or islands and they all turned out very well. We hung them up outside the classroom.