St Anne's Ardclough
NEWSLETTER OCTOBER/NOVEMBER 2017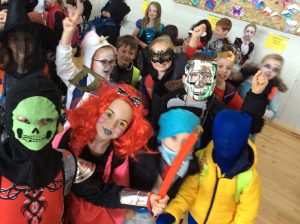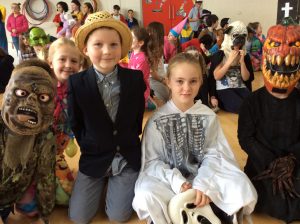 Halloween:
I hope you all enjoyed the Hallowe'en mid-term break.
Well done to everyone for such a great effort in dressing up on the last day before mid-term. There was great creativity evident and such effort into making and assembling costumes. Have a look at the gallery section on the website for further photos.
Thanks to all the classes for sharing Halloween songs and poems with us too.
Well done to junior infants for their shows for parents – they were a real treat!
Initiatives
Thanks to children in 5th class and 2nd who are organising a number of initiative across the school. These include
Artist of the Fortnight
Book reading with infant classes
Story writing competitions
Publishing stories and books
Children can submit stories and art work and a number will be chosen for display across the school. Some of the initiatives
It is wonderful to see children coming up with their own ideas – entrepreneurs of the future!
November – Time for Remembering
November is a time when we remember people close to us who have died. We say a prayer at assembly each morning to start the school day and for this month we will think of those who have gone before us.
We invite children to write the name of someone close to them who has died if they would like to and to place the name in a basket at our sacred space. We will remember all these people at prayer time
Parents Support Group and Board of Management
Many thanks to those who attended the PSG AGM last month. An overview of work undertaken by the PSG was given and summaries of PSG and School accounts were outlined.
The work that has been done by the PSG over the past year has been wonderful, from fundraising to hosting so many events. Much work is done in the background to make these events happen and I wish to pay special tribute to Ruth O Reilly and Lorraine Tynan for their commitment and enthusiasm in driving this forward. Thanks to Serena Conheady, secretary, and Louis Phillips, treasurer also and indeed to the whole team for such a great effort. It makes a great difference to life in St Anne's
I look forward to working with the incoming officers and team over the coming year.
Jackie Wilson and Amy Meally will co-chair; Aoife Kelly will be secretary and Louis Phillips will continue as treasurer. Many thanks for taking on these roles
Meetings for parents
As you know we held a meeting last night to outline the SPHE Curriculum and programmes to parents. Particular emphasis was on the RSE (relationships and sexuality education) programme at all class levels and the facilitated sessions for 5th and 6th classes.
We would like to run other events for parents over the coming year- if you have any suggestions for topics I would be delighted to hear them.
Parent Teacher Meetings
Meetings will be arranged for classes 1st-6th on November 21st and 22nd. A time will be allocated to you and every effort will be made to schedule meetings for siblings within a short time of each other.