Dear parents,
The Easter Bunny was seen around the school today and we discovered that he was able to change plastic eggs into chocolate! Junior infants had a great time searching for eggs and chickens in the yard, ably assisted by 6th class.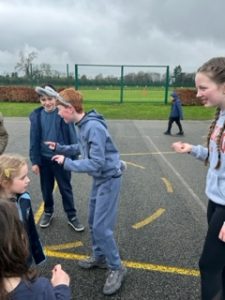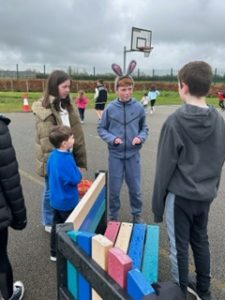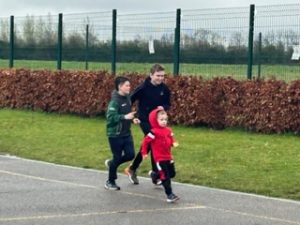 SCHOOL TEAMS
Congratulations to all our students who have been representing St Anne's recently. Special mention to those who part in the recent Scór na nÓg competition and who will be taking part in the Leinster Semi-finals this weekend. Best of luck to all!
Our Athletics teams did very well yesterday in Newbridge- well done to you all.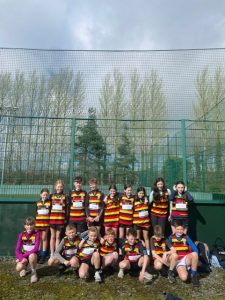 A number of Cumann na mBunscoil events will take place over the coming weeks and we will update you on these as they commence.
Gardening
You may also have noticed or heard about the school plan for gardening. Under the direction of Mrs Knightly, each class is sowing and planting vegetables at the moment. As I walk around the school I see wellingtons, gardening gloves, dustbins holding carrots, seeds sprouting on window sills and there is a great excitement about it all. We are all looking forward to seeing the vegetables grow. Paddy Madden will be visiting the school on Friday April 24th to support us in our gardening endeavours
COMPETITIONS and CLUBS
Well done to all who organised recent talent shows, magic shows, sports events, chess club and so on. It is great to see such participation and to see how well senior students are organising these. We had some lovely Easter art for the competition and I know there are plans for other competitions and displays in the weeks ahead.
It is great to see the basketball league going on at lunchtime; the 'early' hurling training with the GAA and of course, playball is back on Fridays.
OTHER EVENTS:
Seachtain na Gaeilge was a great success and well done to all who participated in competitions and in our Ticéid Glasa raffle and who recveived medals for their work
We will be running a number of the events once a month going forward.
CALENDAR
Some key dates for your information below:
Standardised Testing: We urge all children to be present if at all possible
Week of May 22nd and Week of May 29th
Sacraments:
First Communion- Saturday May 6th; Photos on Monday May 8th
Sports Days: (may be changed, depending on weather)
Junior School- June 23rd
Senior School- June 9th
6th Class:
Gaeltacht Trip- Week of May 15th
Graduation Thursday June 29th
School Tours:
Junior Infants
June 9th
Senior Infants
June 20th
1st Class
June 16th
2nd Class
TBC
3rd Class
June 22nd
4th Class
5th Class
June 23rd
6th Class
Gaeltacht
YEAR AHEAD:
We are welcoming one class of junior infants to St Anne's in September. We hope to hold a meeting for parents on June 13th and to invite new children to visit class and their teacher in late August
Once we have calendar for 23/24 available we will circulate to all families.
We will also inform you regarding school book scheme early in the new term.
Finally, may I wish you and your families, a very happy Easter and a restful break. May the joy of Easter resurrection be with you all in the days ahead.
Warm regards,
Mary Manley