Dear parents,
Greetings from St Anne's where there is a buzz of Christmas excitement!. Strains of music coming from the hall (distanced singing), walls decorated with students' amazing art work, elves coming to visit and all in good spirits.
Not to mention that the sun is shining which makes a change from the storms of last week. Thanks to all who helped last week in getting children safely into school.
I want to update you on a few matters as we approach the final days of term:
Friday Dec 17th – Christmas Jumper (or something with Christmas theme) in aid of Children's Health Foundation/Hospitals
Monday Dec 20th: Santa Truck being organised by PSG (thanks!). Christmas clothes can be worn
Tuesday 21st and Wednesday 22nd – Children may wear tracksuits or ordinary clothes
Wednesday 22nd will be a half day with groups leaving as follows:
12 O'clock– children in Ms Malone's class
12:10– Children from Ms Brophy's, Ms Owens, Ms Doyle's and Ms Mc Loughlin's classes and their siblings (siblings will go to these classrooms in advance and go out with the children to the car park. Children who do not have siblings in school can be collected at the usual collection points for these classes)
12:20 Children on school bus and children from all other classes in Group 1
12:30 Children from all other classes in Group 2
** If all parents wait at cars rather than coming forward, we will get children to you- Thank you!
We will start to send school books home with children on Friday next so that they can be used from home in the event there is any announcement regarding closure after Christmas. We have no information on this, and while it is not likely, we want to be prepared, should the scenario arise. School re-opens on Thursday January 6th 2022.
All classes are preparing a Christmas video of their work for parents and family and teachers will send you the links to same over the coming days. From what I have seen and heard, there is a treat in store!
In Term 2, parent teacher meetings for the infant and 1st classes will take place and we will forward information on that on return.
Applications for new Junior Infants for September 2022 will open from January 13th to Jan 27th. We will send a reminder on that in the new term. Applications must be submitted in that timeframe.
It is hard to believe that we are at the end of Term One. I want to take the opportunity to say well done to all our students for your attention to new regulations and routines around Covid, for maintaining your work standards and giving of your best and for taking part in the various activities around the school. Well done to the new Trad Group, the 3rd class choir, all classes who have taken part in Active Schools activities, those who have organised competitions and clubs and those who have sent in and prepared lovely projects. You continue to give it your all and I am proud of you!
Thanks to you, the parents, for your ongoing support and communications around illnesses etc. I know that you make decisions every day in the interest of the school community and I thank you for that. I wish to pay tribute to the PSG, led by Lynette, Luan and Grainne- as always, your support and creative thinking in providing special moments for children, is greatly appreciated.
Special thanks to Philip, who has taken over from Tony, and who manages everything from traffic to tables, from pipes to playtimes. Thanks to Nora who is central to all that goes on in school and keeps it running smoothly. To Edwina and Lizanna who work on our bus for Ms Malone's class, now beautifully decorated for Christmas- thank you!
Finally, I wish to pay tribute to my colleagues, teachers and SNAs, who have continued to maintain high standards balanced with nurturing and supporting the children during what has been a challenging time. Both you and the children continue to inspire me and bring the community spirit in St Anne's to the fore. Well done everyone!
I wish you all a peaceful and happy Christmas. I hope you enjoy time with your families and that the New Year is full of good times for you all.
Warmest wishes,
Mary Manley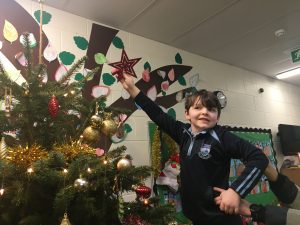 Putting the star on our Christmas Tree- Well done boys!