Dear parents and students,
On this bright sunny afternoon, I write to update you on activities and events in St Anne's.
Today saw classes having playtime out on the field and much fun was had!. It is a joy to see after the confines of Covid restrictions in the past years.
On the matter of Covid, while restrictions have eased, we also have to be mindful of the rise in cases in recent weeks. Numerous cases are being reported to us in classes and it has affected staff members also. I wish everyone affected a speedy recovery.
Rather than sending out email /text for each case, I am asking that everyone remains vigilant in terms of not attending school if symptomatic, using antigen tests and letting the school know if your child is positive. We will continue with ventilation and hygiene practices and will contact you if your child is showing symptoms.
Bhaineamar taitneamh as Seachtain na Gaeilge an seacthain seo chaite. Beidh Lá Glas deas againn, ceolchoirm sa halla, céilí do gach rang agus alán eachtraí eile ar siúl. Comhghairdeas do gach dalta!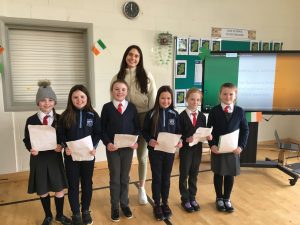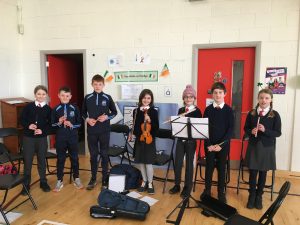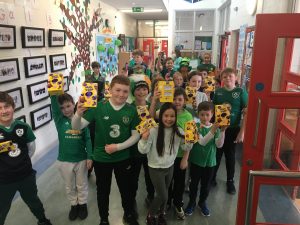 A number of after-school clubs and events have started up:
50 club (and Morning Club) run by Caroline, Lorraine and Lisa (Contact Lorraine at 087-6306947)
Irish Dancing is in full swing as I write- Natalie can be contacted at 087-7471957
I have sent an email with details of Junior Einstein Science Club which will be beginning in May (see link on flyer in email, for registration details)
Geraldine O Brien is back doing drama classes– 0872618118
Some school-based activities are underway or being planned also:
Cumann na mBunscoil fixtures are being arranged, and we hope to take part in a number of blitz competitions after Easter. Arrangements around training etc will be announced shortly by Mr O Leary.
The Cross Country event will be in April and Ms Owens will be working with the team for that event.
Thanks to the team in 6th class who are arranging lunch time clubs and talent shows– it's great to see their level of organisation, not to mention the talent that is on show
Mr O Leary will be organising the lunchtime basketball league in the coming days, another event that proves to be exciting each year.
Ms Malone will be organising Lego Club shortly too and will send on information to parents on that.
Our choirs and trad group continue to practice and performed so beautifully for the full school before St Patrick's Day
GAA training and gymnastics continue, with Playball starting tomorrow.
We are delighted to have had the support of the PSG and you, the parents, to acquire new gymnastics equipment. All being put to good use as you can see! Míle Buíochas!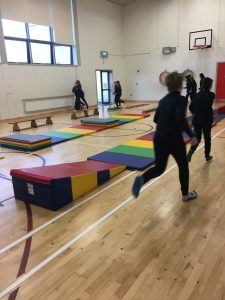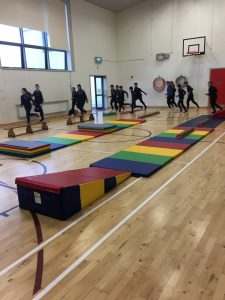 We hope to have some tin-whistle, tag rugby and chess clubs too and will come back to you with details.
So lots going on it is great to see the activity and enthusiasm around the school!
Speaking of activity, the Active Schools Committee have been busy. Watch out for the sign in the car park showing the start of our Active Trails and for the many points around the field and school grounds that are active stations. And of course, classes are running to various parts of the world (calculating the cumulative distance travelled by each class around the school, over a number of days). I had better have my running shoes ready when they come knocking! Well done all and keep it up!
Congratulations to our show jumping team who took part in the Inter-schools Show jumping Competition last weekend. They came overall first place, winning the primary school teams class. Congratulations to Charlotte, Alice, Kate and Lila on their great achievement!
Sixth classes had a great trip to Baldonnel Aerodrome recently; thanks to Rita Kelly for organising this. They were treated to a tour of the base and had opportunities to go on to some aircraft too.
We have started work on the Wildflower Garden at the rear of the school and hope to have trees planted there also. Thanks to Mrs Knightly for the work on this. Classes will also be tending to small gardens at the side of the school and I look forward to tasting some of the produces come harvest time!
The PSG have arranged a number of coffee mornings for parents of junior classes (dates to be forwarded by PSG). The opportunity to meet with new parents /parents of infant classes has been reduced in the past two years so this will be a nice occasion to meet everyone.
Finally, I want to wish the Ardclough GAA Club every success with their Fundraising Launch this weekend. We are delighted to work with the club in various ways and I hope that you all have a great day out on Saturday.
Enjoy the sunshine!
Mary Manley