Looking Back and Looking Forward:
With four weeks of our new term completed we are already looking back on what has been achieved and of course looking forward to a happy, healthy and fulfilling year ahead.
I wish the students of 6th class 2016/17 a happy and successful time in second level. All of you made a great impact on life in St Anne's and I know you will go on to do great things in your lives ahead.
We are grateful to you for your donation of goalposts to the school. How thrilling it was to host our first match in the field last week, using these goalposts. Well done to Mrs O Sullivan and the girls who won their football match last week- a good sign of things to come for all our sports teams in St Anne's! More on this in our sports reports below….
New Students:
A special welcome to our new junior infants in Mrs O Brien's and Mrs O Sullivan's class! Already you have brought so much of your personalities and interests to St Anne's and you will shape things to come. Photos of first days in school are on the TV in the entrance (feel free to come in and view them) and they may appear in local newspapers soon too.
I compliment the 5th and 6th class who have looked after our infants this year, as their 'buddies'- well done on taking on your roles so well and with such care. It is lovely to see your interaction with the infants on the yard and at home time.
Also thanks to the 2nd class children who are the 'Yard Angels' on the junior yard. Children who may feel a little lonely or who need a friend to play with are supported by the Yard Angels.
We also welcome more senior students who have joined us this year- Jack, Martha, Leon, Róisín, Aisling, Nathan, Amelia and James. You too will make a great difference and I know that all will make you feel very welcome here.
Of course we welcome Jo's Playschool to the school premises also and wish them every success and happiness.
Clubs
We continue with our Wednesday Lunchtime Clubs again this year. Sixth class have certainly risen to the challenge and are offering a wide range of clubs to the children from 2nd to 6th. They will share their talents in areas ranging from sport to art, from drama to quizzes and board games. Well done to you all!
Sports at St Anne's
Mr O Leary's review:
In this term, the Under 11 boys and girls football teams have been competing in the Cumann na mBunscol competitions. Both teams have done very well. This was a very exciting year for the footballers because it was the first time that competitive matches were played in our new school field. New goalposts and flags arrived at the start of the year, which were kindly sponsored by last year's sixth class children.
The girls had the honour of playing the first match on the new field and played a very exciting match in the rain against Cappagh. They eventually won the match with a few points to spare after a tremendous performance.
The boys team have also fared well this year, winning two of their three matches (one of which was also played in our new field) and have hopefully now qualified for the semi finals.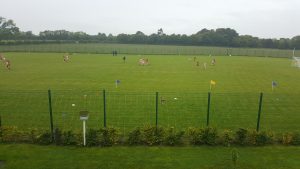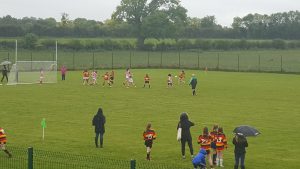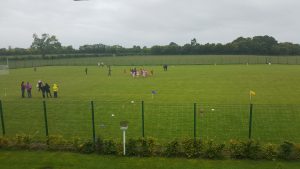 Mrs O Sullivan's notes:
Under 11 girls football commenced in September and was enjoyed by all participants from 5th and 6th class. We will return again in 2018 for the under 12 league.
Ms Owen's update:
Well done to all who participated in cross country races in Celbridge last week. The girls team came 4th overall. The lunchtime athletics training will continue from Tuesday next, Oct 10th for students of 4th-6th class. Those interested should let Ms Owens know this week.
After-school Activities
A number of after-school activities take place in St Anne's. Have a look at our website for more details on the types of activities and contact details.
School Library:
Preparations are underway, as you know, for our school library. Should you have any books to donate there is still time to do so- just leave them with Nora in the office.
A Few Reminders
We would be very grateful if the following matters are considered to help us in making St Anne's a safer place for everyone:
Please be vigilant in what is provided in lunch boxes and ensure that nuts are not given to children.
Notes to teachers are needed for any late arrival or if your child is leaving early for appointments. Also we would appreciate if you would sign your child out in the book at the school office. If children need to be collected they should only be collected at the main entrance and not at yard time/by entering the yard
Many items of clothing and books are left in 'Lost Property' each year. We suggest that all children's items are labelled so that children can identify their belongings should they go missing
Parents Support Group AGM
A note was issued to all parents last week re the AGM last week. It will take place on Tuesday Oct 17th (change of date) in the school hall and I look forward to meeting with you there.
I wish to acknowledge and pay tribute to the PSG for their dedication and commitment over the past year. The fundraising undertaken has made such a difference in covering costs in the school and supporting us in providing additional resources and opportunities for children. Thank you for all that you have done in hosting and supporting school events- it is in these ways that the community of St Anne's can come together to celebrate and grow.
Parents:
Finally thanks to you as parents for your support of St Anne's in so many different ways. I look forward to a great year ahead and I will be in touch again shortly re plans and events to take place over the coming term